-- Posted 13 September, 2007 | Digg This Article
| Discuss This Article - Comments:




Key Highlights:
Excellent Leverage to Silver

Silver Standard Resources

and Management:

35% Ownership

Attractive Share Structure:

26.5M Fully Diluted

Multiple Summer 2007 Exploration Programs

50M Silver Ounce Near Term Resource Objective

Strong Management Teams in Canada and Mexico

6 Month Price Target: $2+
Overview:
Silvermex Resources [TSX-V: SMR] is a new junior resource company focused on silver exploration projects in Mexico. Since its late 2006 public debut, Silvermex has already secured a 9.65 million ounces silver NI 43-101 compliant defined mineral resource. The company has set the objective of increasing silver resources to over 100 million ounces over the next 24 months. The company's goal is to increase shareholder value through the discovery, acquisition and development of large, economic silver deposits in Mexico.
Silvermex's largest and founding shareholder is the multi-billion dollar Silver Standard Resources [NASDAQ: SSRI], with roughly a 1/8th ownership, which also holds the right to enter into a joint venture on Silvermex's Penasco Quemado property.
Silvermex controls over 40,000 hectares of highly prospective geology in some of Mexico's most prolific silver belts. In northern Mexico, Silvermex is preparing a 5,000 meter drill program at its Penasco Quemado property. The initial 43-101 resource estimate shows high-grade silver values with an average exceeding 115 grams of silver per ton. A 3,000 meter drill program has recently been completed at its Cerro de Plata project, a past producing silver property – drill results expected shortly.
Silvermex's peer group valuation, using the initial resource estimate only, is roughly 50% lower which provides investors with superior leverage to increased resources and silver prices.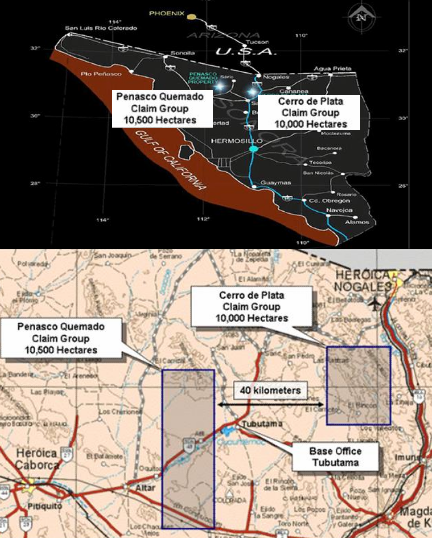 Properties:
Silvermex holds a sizeable portfolio of exploration properties covering about 85,000 acres in one of Mexico's most prolific silver producing areas, in the state of Sonora – where silver and gold production has been recorded since the 1600's.
Silvermex's two properties sit just south of the US/Mexico border near good infrastructure. Silver Standard Resources holds an option on Penasco Quemado property with the Cerro de Plata 100% owned by Silvermex. Just in the past several weeks, Silvermex announced the option to acquire 100% of another property (Lety) in northern Durango, Mexico – near historical mining districts.
With an initial 9.65M ounces of silver resources so far, I fully expect Silvermex to continue to increase its resource base with ongoing exploration programs and potential acquisitions such as seen just recently with Lety, its third property.
Penasco Quemado
The Penasco Quemado deposit already has an initial 43-101 resource base of 9.65 million ounces of measured and indicated silver resources. The deposit has a relatively high grade, near-surface deposit which has seen past open-pit production. The property is situated near infrastructure including good access to power and water.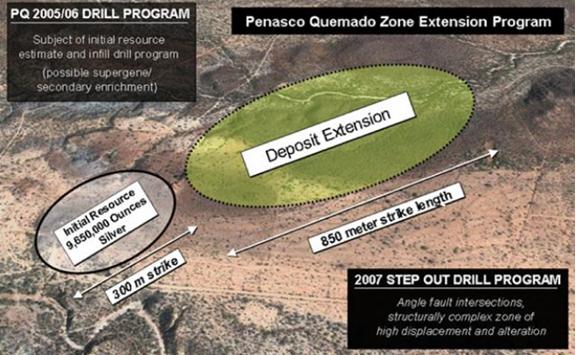 Above you can see an aerial view of the property including where the initial 9.65 million ounces silver resource has been define. Illustrated as well in the green hue is the potential deposit extension, with over 850 meters of strike length which the company plans to begin drilling shortly to expand the resource and currently plans a 5,000 meter drill program for Q3 and Q4 this year.
Initial 43-101 Mineral Resource Calculations
Resource Classification

Ore
(million tonnes)

Grade
(g/t Ag)

Silver (million troy oz)

Measured Mineral Resource

0.123

151.9

0.599

Indicated Mineral Resource

2.442

115.0

9.032

Total Measured + Indicated

2.565

116.8

9.631

Inferred Mineral Resource

0.001

41.4

0.001
Some significant intersections were encountered at the San Luis zone, about a mile from the existing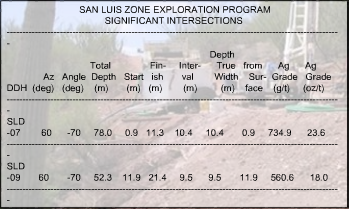 deposit. Shown on the table to the right, silver grades as high as 23.6 ounces per ton were encountered near surface.
Among Silvermex's short-term objectives is to complete extension drilling of this property followed up with Phase II drilling on all primary targets. To earn a 70% interest, Silver Standard must reimburse Silvermex for two times the expenditures on the property and pay all costs to advance the property to feasibility study. The option is triggered once a minimum of 30 million ounces of silver has been defined.
Cerro de Plata (Hill of Silver)
25 miles East of the Penasco Quemado property, Cerro de Plata is 100% owned by Silvermex,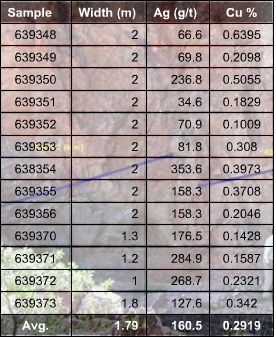 covers over 10,000 hectares and has seen past production. Extensive silver and copper mineralization both on surface and underground have been encountered with widespread underground workings.
The table to the right shows grades intersected from some of the surface channel sampling. Surface and underground mapping and channel sampling have been completed and assays from old workings have returned as high as 31.5/ounces silver per ton with 6.36% copper.
Silvermex believes the property is a large epithermal structure with porphyry potential. The property also is situated near infrastructure including good access to power and water.
Over the past 4 months, Silvermex has completed extensive mapping, sampling and geophysical programs and has completed a 3,000+ meter drill program at this past producing silver mine. Drill results are expected shortly.
Lety
Recent News: Silvermex Resources announced that it has entered into an option to acquire a 100% interest in the Lety property, located 230km northwest from Durango, Mexico. The property consists of three mining concessions covering 5,130 hectares in the northern portion of the state of Durango (of that surface, 4,867 hectares were staked directly by Silvermex), and are located near the historical mining districts of Magistral del Oro, Santa Maria del Oro and Guanacevi, in the Sierra Madre occidental of Mexico.
Silvermex reports that, "Preliminary reconnaissance work done by the company identified two silver mineralized rhyolithic breccia structures, intensely oxidized with abundant hematite and limolite, trending NW 30 (same as the Guanacevi and Magistral vein systems), with widths ranging between 10 to 15 metres and outcropping for more than 1,000 metres along strike. The system is exposed for at least 150 metres of elevation change. Preliminary outcrop rock sampling by Silvermex on both structures returned assays ranging from 80 to 150 grams per tonne Ag and 0.5 g/t Au. In addition parallel to this principal system, a 15-metre-wide andesitic dike outcropping for more than 1,000 metres was identified. Preliminary sampling on this dike returned values of 45 g/t Ag."
The terms for Silvermex's option to acquire the property includes a $250k payment and 250,000 share issuance over a 2-year option period with equal payments every 6 months. Silvermex must expend a minimum investment of $500k during the first and second year of the option. The vendor shall keep the right to be paid an additional 250,000 shares or $1-million (U.S.), at vendor's option, on or before the earlier of the commencement of commercial production of the project or five years as of the date of signing of the option agreement, whichever comes first. The vendor is an arm's-length party and retains no royalties on the property.
Management:
Silvermex holds a strong exploration infrastructure and contact network in Mexico along with proven and reputable management teams. Silvermex has put together a strong management team in both Canada and Mexico.
Stock Technicals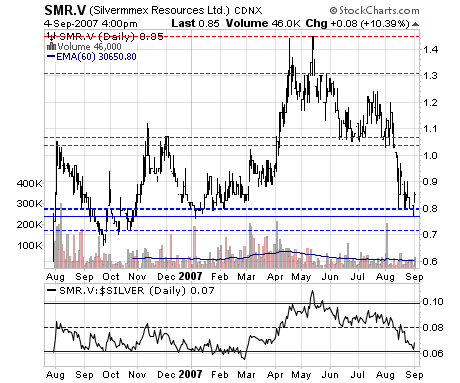 Silvermex is undergoing a consolidation period after its early 2007 run-up from the C$0.80 area to nearly C$1.50 a share. The pullback back below the C$1.10 support coincides with the general market pullback and the weaker silver price.

We at the SilverForecaster.com believe this is a temporarily setback and expect much strong silver and silver equity prices over the coming months. We view this temporary setback as a terrific opportunity for investors in many silver stocks to accumulate at discounted levels.

Silvermex's relative strength to the silver price during the run-up should alone aid in its return back to record levels with silver soon looking to make a move to the $15-20 mark – with about a .10 ratio and a $20 silver price, Silvermex should rise to $2 based off this technical consideration.

Add some positive corporate news and expect the ratio to once again exceed its peak in May. As the company progresses, the ratio will most likely move higher as Silvermex is a leveraged silver investment and will likely outperform the silver price and equities on the next move higher.

Conclusion

I believe that silver provides greater upside leverage than gold during this secular bull market. If you too believe in the sustained and higher price of silver, then junior and exploration companies will increase your upside exposure. Silvermex Resources provides leverage through both exploration and the silver price.

I expect management to continue to fill their mid-term corporate objectives which includes an initial 50 million ounce silver resource target through both exploration and acquisition. Long-term corporate objectives include increasing their silver resources to 100 million silver ounces. With Silvermex's low peer-group valuations, market cap and initial 9.65 million ounce resource base thus far, at a cost of less then $0.16 per ounce, expect this relatively new silver company to attract more attention as the word continues to spread.

Investors do need to be aware that investing in such business models, such as Silvermex Resources, are inherently taking on greater risk. Yet with such risk you should expect higher rewards and to me Silvermex Resources provides me with this. Silvermex holds a strong exploration infrastructure and contact network in Mexico along with proven and reputable management teams. This combined with this terrific share structure, high-potential properties in the leading silver producing country in the world and not to mention having one of the largest silver companies in the world as the largest shareholder and potential partner on one of the properties helps minimize risks otherwise held with other silver exploration plays.

Of course one should profile their investment risk tolerance and decide what level of exposure is appropriate. I believe in diversification over a basket of exploration investments and of the few silver exploration companies I have hand selected in this category, my preference is for Silvermex Resources. With current peer-group valuations and ongoing exploration programs underway, I expect Silvermex Resources to move to and past the $2 mark in the coming 6 months with current and improving silver market conditions. Upside leverage means much higher levels through the addition of more silver resources and/or higher prices.

I continue to favor companies with low-profiles as greater opportunities and returns have been made through such investments. I have provided three publicly over the past year or so and here is my public report card:

#1 – WEX.V: Profiled at $1/share. Current Price: $2+

#2 – GORO: Profiled at around $1.50/share. Current Price: $4+

#3 – TBLC: Profiled at around $1/share. Current Price: $3+

#4 - NEW – SMR.V: Profiled here at around $0.90/share. Initial 6-month Price Projection: $2+

You may view my public equity reports here: http://news.goldseek.com/PeterSpina/

I also send out these profiles on my free e-mail list: www.GoldSeek.com/email

If you would like more investment ideas, including fundamental updates on silver and gold, you may find my contributions weekly at:

Silver: www.SilverForecaster.com

Gold: www.GoldForecaster.com

For further research and information:

Website: http://www.silvermexresources.com

o News Releases: http://www.silvermexresources.com/s/NewsReleases.asp

o Presentation:

http://www.silverseek.com/smr/

Contact the Company Directly:

Silvermex Resources, Ltd.

Suite 520, 609 Granville St.

Vancouver, BC, Canada, V7Y 1G5

Telephone: 604-682-4004 Ext:229

E-Mail: info@silvermexresources.com

Review Public Filings: http://www.sedar.com/DisplayCompanyDocuments.do?lang=EN&issuerNo=00023640

Quote: http://finance.yahoo.com/q?s=smr.v

- September, 2007


Disclaimer & Additional Disclosure
The owner, editor, writer and publisher and their associates are not responsible for errors or omissions. The author of this report is not a registered financial advisor. The author has received a compensation fee for research, publishing, distribution along with the marketing services provided on the author's website, www.silverseek.com. Readers should not view this material as offering investment related advice. Authors have taken precautions to ensure accuracy of information provided. Information collected and presented are from what is perceived as reliable sources, but since the information source(s) are beyond our control, no representation or guarantee is made that it is complete or accurate. The reader accepts information on the condition that errors or omissions shall not be made the basis for any claim, demand or cause for action. Past results are not necessarily indicative of future results. Any statements non-factual in nature constitute only current opinions, which are subject to change. The information presented in stock reports are not a specific buy or sell recommendation and is presented solely for informational purposes only. The author/publisher may or may not have a position in the securities and/or options relating thereto, & may make purchases and/or sales of these securities relating thereto from time to time in the open market.

Please note: Silvermex Resources Ltd. Is a paying client on SilverSeek.com, Silver Seek LLC. The author holds a position in the company and is providing investor relations work to increase investor exposure in the company. Nothing contained herein constitutes a representation by the publisher, nor a solicitation for the purchase or sale of securities & therefore information, nor opinions expressed, shall be construed as a solicitation to buy or sell any stock, futures or options contract mentioned herein. Investors are advised to obtain the advice of a qualified financial & investment advisor before entering any financial transaction.

SilverSeek.com is a leader in silver information, established in 1995 and ranked as one of the most visited silver resource website in the world. More information can be found at www.SilverSeek.com and the author may be contacted via: http://www.silverseek.com/contact.php


-- Posted 13 September, 2007 | Digg This Article
| Discuss This Article - Comments:


Last Three Articles by Peter Spina, SilverSeek.com




Peter Spina talks to James Turk
By: Peter Spina and James Turk | 25 August, 2011

Peter Spina, CEO of GoldSeek.com, and James Turk, Director of the GoldMoney Foundation, talk about gold. They discuss how little media attention is paid to gold and how that is slowly changing. They also talk about the differences between investing in gold bullion and gold mining shares. They talk about many aspects of gold mining, such as the differences between junior and senior miners, the importance of location and of new discoveries, as well as the dangers of nationalisations and other geopolitical risks. Full Story

---

Silvermex Resources Ltd. [TSX.V: SMR] - Leveraged Silver Exploration
By: Peter Spina, SilverSeek.com | 13 September, 2007

I believe that silver provides greater upside leverage than gold during this secular bull market. If you too believe in the sustained and higher price of silver, then junior and exploration companies will increase your upside exposure. Silvermex Resources provides leverage through both exploration and the silver price. Full Story

---

Peter Spina, SilverSeek.com - Article Archive List