-- Posted 19 July, 2006 | |


Sprott Asset Management chief investment strategist John Embry, Scotiabank economist Patricia Mohr, CPM Group founder Jeffrey Christian, Idaho College of Mines Dean Emeritus Earl Bennett and newsletter writers David Morgan, Jason Hommel and Richard Daughty will headline Silver Summit 2006, a two-day conference focusing on silver's opportunities Sept. 21-22 at the Coeur d'Alene Inn in scenic Coeur d'Alene, Idaho.
In addition, more than 40 silver mining and exploration companies from the Americas, China and Europe will present information about their companies and about coming opportunities in the always volatile silver markets. Workshops will cover a variety of topics from the medicinal to industrial to monetary aspects of silver.
Now in its fourth year, the annual Silver Summit is expected to attract upwards of 700 registrants from every continent.
John Embry joined Sprott Asset Management as Chief Investment Strategist in March 2003 with a focus on the Sprott Gold and Precious Minerals Fund and the Sprott Strategic Offshore Gold Fund, Ltd. He plays an instrumental role in the corporate and investment policy of the firm. Mr. Embry, an industry expert in precious metals, has researched the gold sector for over thirty years and has accumulated industry experience as a portfolio management specialist since 1963. He began his investment career as a stock selection analyst and portfolio manager at Great West Life. He then became Vice President of Pension Investments for the entire firm. After 23 years with the company, John became partner with United Bond and Share, the investment counseling firm acquired by Royal Bank in 1987. Since then, John was Vice-President, Equities and Portfolio Manager at RBC Global Investment Management, a $33 billion organization where he oversaw $5 billion in assets, including the flagship $2.9 billion Royal Canadian Equity Fund and the $250 million Royal Precious Metals Fund, the #1 ranked fund across the country for its 2002 net performance of 153 percent.
Patricia Mohr is Vice-President, Economics and Commodity Market Specialist at Scotiabank's Executive Offices in Toronto. She is responsible for industry and commodity market research in Scotia Economics and works closely with Scotia Capital's Corporate and Investment Banking groups, and with Global Risk Management. Ms. Mohr developed the Scotiabank Commodity Price Index, which measures price trends for Canadian commodities in export markets. Prior to joining Scotiabank, Ms. Mohr spent a number of years with Alberta Energy Co. Ltd. (now EnCana) and with Canadian Pacific in Montreal and later in London, England as Corporate Economist. Patricia began her career with Natural Resources Canada.
CPM Group was founded in 1986 by Jeffrey M. Christian, who was the head of commodities research at J. Aron & Company, which was acquired by Goldman Sachs & Co. Mr. Christian formed CPM group through a management buy-out of the commodities research group of Goldman, Sachs & Co. at that time, with his partners to provide independent market leading research on the commodities markets to a variety of customers ranging from governments to investment funds worldwide.
Dr. Earl Bennett holds a B.A. in Geology from and a Ph.D. in geology from the University of Idaho. After finishing high school, he joined the US Air Force for four years. He worked as a U.I. research associate for a few years before being hired by the Idaho Bureau of Mines and Geology at U.I. in 1973, becoming Associate Director of the Bureau in 1986 and State Geologist in 1989. In 1997 he was appointed Dean of the U.I. College of Mines and Earth Resources and Director of the State Survey. He retired in 2003 at Dean of the new College of Science at U.I.
Richard Daughty, who describes himself as "the angriest guy in economics," is writer/publisher of the Mogambo Guru economic newsletter and a general partner and COO for Smith Consultant Group, serving the financial and medical communities. Prior to joining Smith, Daughty was a financial adviser to American Express Financial Advisers in Clearwater, Florida. He holds an MBA in operations research from the University of South Florida and is a strong advocate for sound fiscal and monetary policy. His comments appear frequently in such fine publications as goldseek.com, silverminers.com, the Daily Reckoning and Barron's.
David Morgan, editor of the Silver Investor, started investing in the stock market well before turning 18 years of age. Seven years ago, Mr. Morgan put his life long study of free-market economics to work researching the economy, stock market behavior, precious metals, especially silver. Mr. Morgan believed that silver needed more exposure and would be utilized increasingly as technology continued to demand more and more of the metal. Mr. Morgan's interest in silver led him to publish the "The Morgan Report", a research report that has grown in popularity and is today seen as one of the pre-eminent reports on Free Market economics in the financial industry. Mr. Morgan has benefited from the bull market in commodities and metals: An overwhelming number of the companies outlined in his model portfolio is higher than the original recommendation.
Jason Hommel publishes SilverStockReport.com, with a subscriber list of over 10,000. A former alpine ski racer, Hommel was graduated in 1994 from the University of Colorado at Boulder with a psychology degree, and took up his interest in silver in 1999. In 2002, his investment picks in silver stocks rose 153 percent in value, and he began sharing his portfolio strategy with on-line readers. In addition to his own websites, Hommel publishes regularly on gold-eagle.com, goldseek.com, silverseek.com, minersmanual.com, freebuck.com, mineralstox.com, bibleinvestments.com, financialsense.com, and lemetropolecafe.com.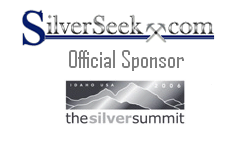 A complete agenda, including events occurring in Wallace, Idaho the weekend following the formal Silver Summit, and registration information, may be found at www.thesilversummit.com. Official sponsors of The Silver Summit include Peter Spina of GoldSeek.com and SilverSeek.com, and the Silver Valley Mining Association.


-- Posted 19 July, 2006 | |


Article Archives